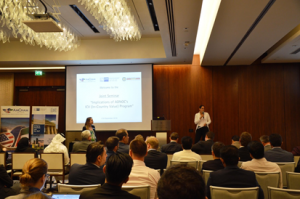 AmCham, AKH, and Spanish Business Group Joint Seminar
On September 17, 2018, Dr. Tom Deeb of T&M Associates was invited to speak on the regulatory framework and the requirements of ADNOC's ICV program.  Dr. Deeb stressed the importance for businesses to register and participate in the program.
The Joint Seminar started with a welcome speech by Dr. Dalia Abu Samra-Rohte from the AHK, ADNOC´s representative Mona Balalaa gave a short introduction about ADNOC and proceeded with a detailed overview of the ICV program and an explanation of the different components.  Following that, Mr. Guillermo Cobelo, Country Manager of Técnicas Reunidas, talked about his practical experiences with ICV programs and then Dr. Tom Deeb gave his presentation.  Last, Dr. Constantin Frank-Fahle of SCHLÜTER Graf Legal Consultants explained the legal aspects of the program, starting from the enforcement and set up options up to licensing and security permits.