From 2010 through 2012, T&M Associates worked with a local Azeri company to lead BP's Enterprise Development and Training Program (EDTP). After 3 years, SME contracts increased to 30% of the total expenditure, hundreds of new Azeri jobs were created, and millions of dollars of new investment were made. The success of the program can be seen in the graph shown in BP Azerbaijan Sustainability Report from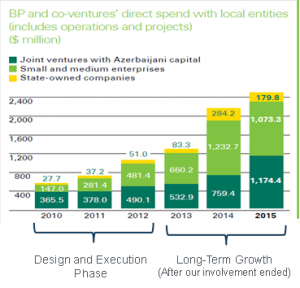 2015.
After 3 years, EDTP achieved the following:
Local companies won contracts in the excess of $300 million.
Local suppliers significantly increased their full time employees
Local suppliers increased their investment by ~ $8 million (local supplier investment dollars)
Local companies also won about $25 million contracts outside of oil and gas — demonstrating the value of development to deliver new business (spill-over effect).
BP realized millions of dollars in savings, and a less than 12 month payback with a substantial ROI.
Our local partner continued to successfully operate the EDTP center independently after our involvement ended.
At T&M Associates, we take great pride in the fact that we provide sustainable In-Country Value Add (ICV) programs that continue to grow today and in the future.